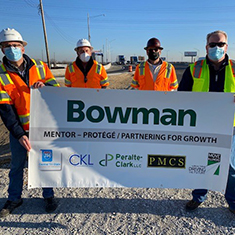 As a recognized leader in the engineering industry, Bowman is in a unique position to mentor and develop our M/W/DBE and VOSB partners. We take great pride in our commitment to promote significant and sustainable growth in our team members through both formal and informal Mentor/Protégé relationships.
As the prime consultant providing Construction Management services for the Mile Long Bridge, a multi-year, $500 million+ project along the Tri-State (I-294) Tollway in Illinois, Bowman established Mentor/Protege or "Partnering for Growth" (P4G) agreements with three (3) firms.
According to Senior Vice President Mike Hannemann, PE: "A major goal in the formation of Bowman's team was to include firms with unmatched Tollway experience and those seeking an opportunity to grow by gaining experience in new areas on more complex projects. The size and complexity of the Mile Long Bridge will allow our diverse subconsultants the unique opportunity to gain valuable experience that will lead to the growth and increased technical expertise of their firms."
Bowman's seasoned professionals are mentoring these firms in construction inspection and documentation, and assisting them in furthering their managerial and technical skills in preparation for more challenging construction management assignments. Bowman meets regularly with the principals of each firm to discuss their goals and objectives as well as the progress of their assigned staff.
Our success in these programs is shared and demonstrated by their successes. We are proud that one of our three Protégés was recently selected for their first priming opportunity with the Illinois Tollway. In addition, other D/M/WBE and VOSB subconsultants from our Mile Long Bridge project were also successful as either primes or subconsultants on multiple teams.
Mae Whiteside, PE, President of CKL Engineers, stated: "Bowman literally changed the trajectory of our firm. We grew by adding key management staff to position us to win PSB 20-1 as a result of this project opportunity. It really showcased who we are to the industry: a strong team ready to tackle multiple challenges delivering superior CM technical services."
Bowman continues to promote diversity, inclusion, and supportive relationships with team members on its projects. We believe in the importance of the Mentor/Protégé Program to provide greater opportunities and strengthen our industry as a whole.