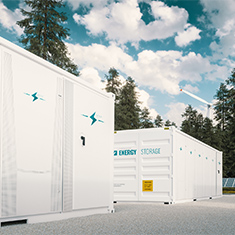 This article was originally featured in North American Clean Energy magazine. Read the complete article HERE.
Tucked into the federal legislation passed in early June was a provision that should be of interest to those of us in the renewable energy business focusing on large battery energy storage system ("BESS") projects.
The Fiscal Responsibility Act of 2023 signed by President Joe Biden on June 3 included language that streamlines the permitting process for large energy storage projects. As with other types of renewable energy projects, permitting is one of the bottlenecks that slow down development of a BESS sites. The June debt ceiling deal seeks to speed things up by allowing such projects to be covered under an earlier act, the Fixing America's Surface Transportation (FAST) Act of 2015. The FAST Act contains provisions for streamlining the permitting process for a range of construction types. The June debt ceiling legislation ordered that "energy storage" now be among those projects covered in the FAST Act.
The change puts more pressure on permitting agencies to move things along. They don't have an indefinite amount of time to linger while a development languishes.
There are of course stipulations. Projects must be subject to the National Environmental Policy Act (NEPA) and "likely to require a total investment of more than $200 million." While the NEPA part is welcome — who wouldn't want a faster process there? — the $200 million condition aligns more with larger projects. Few BESS projects ever exceed that level.
But it does confirm which way the winds are blowing in Washington. More support for streamlining permitting for renewable energy projects is coming. Political leaders have gotten the message: Permitting backlogs are one of the biggest impediments to renewable energy deployment today.
Demand for BESS is rising in California, the Southwest, Texas and, more recently, the Midwest and Mid-Atlantic regions of the U.S. The streamlining of permits for BESS projects would alleviate bottlenecks that have slowed progress, with implications for society as a whole, given the now well-agreed urgency behind deploying renewable energy and energy storage at a wide scale.
Streamlining beyond permits
Speed is the all-important thing on everyone's minds, as developers of BESS sites well know. But it's not just NEPA requirements that slow down projects. The smart developers we see in the industry stay on top of their schedule in a number of key ways. These methods should prove all the more valuable in light of the growing political acknowledgment over permitting.
They fall under two broad categories: design and communication.