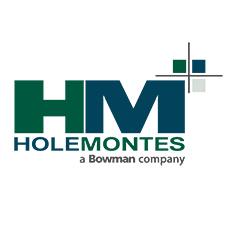 Bowman today announced the purchase of Hole Montes, Inc. ("Hole Montes"), an engineering services firm offering an extensive portfolio of infrastructure planning services from offices in Naples, FL and Fort Myers, FL. Founded in 1966, the firm has a storied history as one of the most trusted, reliable, and entrenched full-service engineering firms in Southwest Florida. Today, Hole Montes provides comprehensive design, survey, GIS, and construction management expertise to customers focused on environmental engineering, transportation infrastructure, airport facilities, storm water and wastewater systems, land planning, landscape architecture, and more. Hole Montes has a workforce of 65 professionals, all of whom will join Bowman in connection with the acquisition.
"Hole Montes is a well-respected firm with a long-established presence in Southwest Florida," said Gary Bowman, CEO of Bowman. "They possess expertise and client relationships that complement ours and will benefit from our national platform. Most importantly, their culture aligns seamlessly with ours which will enable immediate work-sharing and collaboration. We expect to recognize meaningful revenue synergies over time from this combination while also optimizing our collective utilization based on similar customer engagements and core capabilities."
"Working with Bowman during the diligence and pre-integration period has given us tremendous comfort that this is the right next step for our leadership, our employees and our customers," said Bob Mulhere, CEO of Hole Montes. "Bowman's professional development programs and national platform provide growth and expansion opportunities for our people which makes this a very attractive opportunity for all of us at Hole Montes. We're excited to accelerate our growth and to contribute our expertise to Bowman's portfolio of services."
Financed with a combination of cash, seller notes, and equity, the acquisition falls within previously discussed target multiple and operating metric ranges and is expected to be immediately accretive. The Company anticipates the acquisition will initially contribute approximately $7 million of annualized net service billing. More detailed information on M&A activities, pipeline, and guidance updates are provided in connection with scheduled quarterly and annual communications.
About Hole Montes Inc.
Since 1966, Hole Montes, Inc. has held fast to the business philosophy of being one of the most trusted and reliable full-service engineering firms in Southwest Florida. With full-service civil engineering offices in Naples and Fort Myers, Hole Montes is strategically positioned to provide the design and management expertise necessary to achieve success for any project. From environmental engineering, land planning, permitting, zoning, storm water management design, airport design, transportation design to surveying and mapping, Hole Montes project managers are experienced professionals who have the expertise, training, and availability to assist in achieving a successful conclusion to any project. For more information on Hole Montes Inc., their projects, and services, visit http://www.holemontes.com.