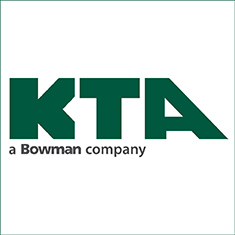 Bowman Consulting Group, Ltd. ("Bowman"), a provider of professional services to customers who own, develop, and maintain the built environment, announced today the completion of the previously announced acquisition of KTA Group, Inc. Founded in 1989, KTA is a forty person engineering firm with core expertise in mechanical, electrical and plumbing engineering, commissioning, third-party plan review, and lighting design. The move supports Bowman's continued growth and substantially broadens its scope of service offerings.
"The completion of this acquisition signifies the launch of our initiative to accelerate growth by selective and intentional M&A," said Gary Bowman, Chairman and CEO of Bowman. "I want to thank both teams for working tirelessly and collaboratively towards a smooth closing. Adding KTA's comprehensive skillsets and experience greatly enhances our ability to serve as a one stop provider of design services to our clients."
KTA's CEO and founding partner, Mark Koblos commented: "Our combined strengths and cultural values of growth and entrepreneurial spirit sets a strong foundation for us to merge our critical attributes, technological capabilities, and engineering experience to continue serving our loyal customers."
Koblos joins Bowman as Executive Vice President spearheading the firm's MEP business development and national expansion strategy. Randolph Thompson, president of KTA will continue to lead KTA's current team of engineering and support professionals out of its Herndon, Virginia office.
"With a successful acquisition behind us, I am confident that Bowman will continue to be a leader in the industry providing an extensive range of unmatched services," said Thompson. "Our ultimate goal has always been to provide our clients with the most innovative and effective solutions, and I know that with Bowman we will be able to do that better than ever before."
The deal closed on January 1st and has been structured as an asset purchase. Bowman expects this acquisition to be immediately accretive.