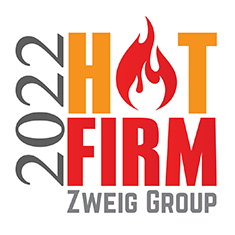 Bowman is excited to announce that the company ranked 21st on Zweig Group's 2022 Hot Firm List, a more than two-decade-old awards program honoring the fastest-growing firms in the AEC industry. Firms are ranked based on three-year growth in revenue, by both percentage and dollar growth.
"We're pleased to be recognized by Zweig Group again this year," said Gary Bowman, Founder and CEO of Bowman. "Our company was founded on growth, and it's one of our cultural values. Since our company went public in May of 2021, we have completed ten acquisitions and plan to continue our initiative for accelerated growth through the development of our people, services and markets."
Bowman's passion for growth and continuous improvement has seen the firm grow from its 1995 launch as a five-person local civil engineering company to its current status as a 1,400+ person multi-disciplinary professional services firm operating out of more than 60 locations across the United States. Bowman's IPO, along with more than 25 acquisitions over the years, has propelled the firm into a new era spurring innovation, efficiency and best practices to help clients adapt to new demands and the ongoing changes impacting their industries.
"Demand for services and expertise on the client-side and meaningful career growth on the employee side has made it fundamentally important that every AEC firm has growth embedded into their strategy," said Jamie Claire Kiser, Managing Principal and Director of Advisory Services at Zweig Group. "We congratulate the 2022 Zweig Group Hot Firm winners for seizing the opportunity and celebrate their successes today as well as the successes that are outcomes of the growth culture that the Hot Firm winners embody." 
The complete list of winners can be accessed here.