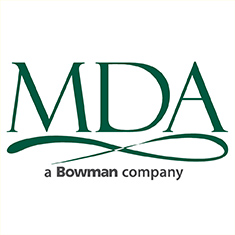 Bowman announced the acquisition of McFarland-Dyer & Associates ("MDA") headquartered in the greater Atlanta area. Founded in 1995, MDA delivers civil engineering, land planning, land surveying and landscape architecture services to public and private sector clients throughout the Southeast.
"We are excited and happy to welcome all of the MDA employees and clients to Bowman," said Gary Bowman, chairman and CEO of Bowman. "McFarland-Dyer brings a strong market reputation and I look forward both to expanding our presence in the Atlanta market and to extending McFarland-Dyer's surveying, landscape architecture, site planning and civil engineering services to our customers throughout the Southeast."
"Bowman offers us an exciting opportunity to effect an orderly ownership transition and become part of a dynamic and growing organization," said Phyllis Lamme, President of MDA. "The leadership of Bowman has demonstrated their commitment to empowering the staff of acquired firms by enabling them to thrive, grow and develop professionally within a culture that promotes those same values that we have held since our founding. We are excited about joining Bowman."
The acquisition will immediately enhance Bowman's service offerings, particularly surveying and landscape architecture, in the greater Atlanta area and across the Southeast region. Lamme and all MDA owners, principals and staff will remain with the combined entity and collaborate closely with Bowman's Alpharetta office.
To learn more visit: https://investors.bowman.com/news/news-details/2021/Bowman-Consulting-Group-Acquires-Assets-of-McFarland-Dyer–Associates-in-Atlanta/default.aspx