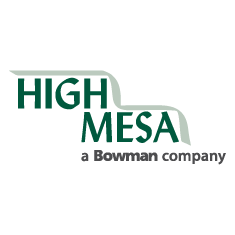 Bowman today announced the acquisition of High Mesa Consulting Group ("High Mesa"), a multi-disciplinary consulting firm headquartered in Albuquerque, New Mexico. Founded in 1977, High Mesa provides land and UAV (drone) based surveying, mapping and geospatial services; sub-surface utility infrastructure engineering, inspection and mapping; civil engineering and planning services throughout New Mexico, Eastern Arizona and Southwestern Colorado. High Mesa is Bowman's tenth acquisition in 2023.
High Mesa serves a wide range of customers involved in the design, construction and operation of horizontal and vertical infrastructure including local, state and federal clients in addition to private sector owners, contractors and other technical consultants.
The firm focuses on projects involving transportation, railroads, utilities and energy, public and private K-12 and higher education, healthcare and private land development. With a concentration on long-term on-call services-oriented client relationships, High Mesa is a progressive, quality based selection (QBS) firm with a track record of delivering innovative services and solutions.
The firm's staff of 22 professionals includes multiple FAA Part 107 certified pilots who operate a fleet of UAV and UAS drones and high-resolution imagery systems. All High Mesa employees will join Bowman in connection with the acquisition.
"High Mesa is a great addition to Bowman and immediately expands our reach into growing markets we do not currently serve," said Gary Bowman, chairman and CEO of Bowman. "Their focus on educational and healthcare institutions, utility and energy clients, and public sector customers throughout the southwest is highly complementary to our existing footprint and suite of services. The core skills of their professional workforce are well aligned and highly consistent with our culture of work-sharing and utilization optimization. Additionally, their concentration on state, local, and federal customers along with their expertise in higher education and K-12 educational projects makes them a terrific fit for our strategic initiative to increase public sector assignments. I'm very pleased to have the High Mesa team join us and look forward to a great future together."
"This is the next chapter in the storied history of our firm," said Charles Cala, president of High Mesa. "We have achieved a tremendous amount during the firm's 46-year history, and I am incredibly proud of the work we've delivered to our customers and our communities. Today we start the next phase of our professional journey as a part of Bowman. We are excited about the opportunities this presents for our staff, for our clients and for our collective futures. We're all ready to get to work adding value to Bowman."
Financed with a combination of cash, seller notes and equity, the acquisition falls within previously discussed target multiple and operating metric ranges and is expected to be immediately accretive. The Company anticipates the acquisition will initially operate at an annualized net service billing run rate of approximately $4 million. More detailed information on M&A activities, pipeline and guidance updates are provided in connection with scheduled quarterly and annual communications.