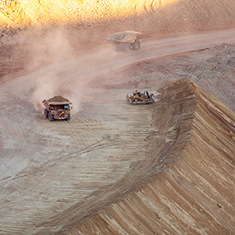 Bowman Consulting Group Ltd. (collectively with its subsidiaries, the "Company" or "Bowman") (NASDAQ: BWMN) announced that the firm has been awarded $600,000 of new mining related engineering assignments in the Southwestern United States. In connection with the assignments, Bowman will be providing civil engineering and mine infrastructure surveying services for eight new sites being developed by one of the Company's longstanding international mining customers. These projects leverage Bowman's more than decade-long experience providing mining operators with total site and infrastructure solutions from initial site exploration through reclamation. In December 2022, Bowman expanded its mining services business beyond copper to include aggregates and additional fill components through the acquisition of H2H Geoscience Engineering, PLLC, which provides mine consulting and geospatial capabilities for industrial minerals, cement and aggregate industries.
"These awards reinforce our commitment to growing our mining revenues through both organic and acquired sources," said Gary Bowman, Chairman and CEO of Bowman. "Mining provides an opportunity for cross-selling, and we are optimistic about the synergies between our mining services and those added from H2H. I'm pleased to see the year start off with strong momentum in mining."
Bowman has recently added enhanced mining services including construction quality assurance (CQA), process engineering, mine infrastructure engineering, capital project control services, construction management and plant commissioning, and terrestrial/mobile ALTA and topographical survey services. The Company expects to see meaningful increases in aggregates mining related activities in connection with federally funded transportation infrastructure spending authorized through the 2021 Infrastructure Investment and Jobs Act.