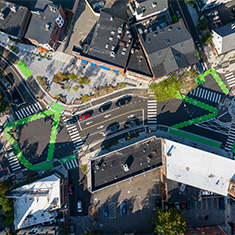 Bowman is pleased to announce the completion of the Inman Square intersection safety improvements in Cambridge, MA.
This accomplishment marks a significant achievement in Bowman's commitment to delivering projects that enhance safety for pedestrians, cyclists, motorists and transit users.
In 2017, the Kleinfelder-led team was selected for the project through an on-call services contract with the City of Cambridge, MA. At the project's onset, before its acquisition by Bowman in 2022, McMahon Associates was chosen to lead urban planning, transportation analysis and street designs, a role they continued to perform through the project's conclusion as Bowman.
Prior to the improvements, Inman Square was a high-crash intersection. Through partnerships with local stakeholder groups, Bowman's team developed an intersection design that aligned with the needs and objectives outlined in several city plans, including Vision Zero and pedestrian, bicycle, climate and transportation plans.
"Our ability to listen to the community and develop a design that effectively addressed local needs is a testament to the expertise of our team," said Christi Apicella, New England urban planning team lead at Bowman. "This project is a shining example of what is possible when local needs, safety and sustainability are prioritized in an urban neighborhood. We're proud to see this project complete and being enjoyed by the traveling public."
The improvements were a high priority for the City of Cambridge. Our team's ability to swiftly deliver an effective design was a crucial factor in meeting this urgency. The chosen design transformed Inman Square's geometry into a configuration that prioritizes safety of all modes of transportation. Additional safety enhancements include separated bicycle lanes with protected phasing, fully accessible sidewalks and crossing islands and the addition of floating bus stops and a transit queue-jump lane.
"Kleinfelder's partnership with McMahon, now Bowman, has allowed us to leverage our expertise, work together as a team, and help the city transform Inman Square into a safer and more vibrant community," said Rebecca Weig, vice president at Kleinfelder. "We look forward to future engagements with the Bowman team."