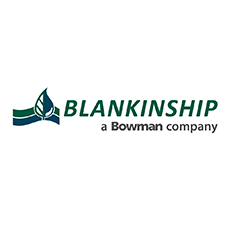 Bowman today announced the acquisition of Davis, California-based Blankinship & Associates ("Blankinship"). Blankinship, an environmental sciences and engineering firm, specializes in providing water resources services, natural resource management services, permitting and compliance services, and specialized training. Established in 2000 by current president Mike Blankinship, the firm serves both public and private sector clients providing solutions to complex environmental and natural resources challenges that intersect the built environment and natural resources. Blankinship's staff of professionals will all become Bowman employees in connection with the acquisition.
"Mike and his team have a unique set of skills and specialties that have been honed during his more than 20 years in business," said Gary Bowman, chairman and CEO of Bowman. "Their reputation as a leading source of environmental sciences and engineering services was what originally drew us to Blankinship, but as we got to know them it was their professionalism and unrelenting can-do culture that compelled us to make them part of Bowman. Their practice will be of immediate value in every aspect of our business, and we expect there to be significant revenue synergy and wallet-share expansion opportunities created by this acquisition."
"We are all excited to join with Bowman and accelerate the growth of our business," said Mike Blankinship, founder, and president of Blankinship. "I started our firm so we could tell a better story to regulators, our clients and our community about how environmental science solves real-world problems. Gary and the Bowman team share our desire to create common-sense solutions that address complex environmental challenges. I believe our team will make great contributions toward helping Bowman clients tackle their environmental and natural resources issues through consultation, innovation, and simplification."
Financed with a combination of cash, seller notes, and equity, the acquisition falls within previously discussed target multiple and operating metric ranges and is expected to be immediately accretive. Bowman anticipates the acquisition will initially operate at an annualized net service billing run rate of approximately $3.0 million. More detailed information on M&A activities, pipeline, and guidance updates are provided in connection with scheduled quarterly and annual communications.
About Blankinship & Associates
Since 2000, Blankinship & Associates has addressed the sciences of water, biology, agriculture and hazardous materials, explaining the issues involved to clients and regulators in a common sense and understandable way in order to help clients achieve their goals. The firm specializes in "making stuff work". Blankinship's professionals rely on their foundation in the physical and natural sciences, and engineering to deliver impactful and cost-effective solutions that creatively navigate the intersection of natural resources and the built environment. In the process, Blankinship solves for highly complex and important environmental challenges associated with the impact of evolving infrastructure demands. The firm's laser-focused team delivers results that address permitting, risk communication, design and training challenges for water and natural resource, production agriculture, pest management and hazardous materials projects. For more information on Blankinship & Associates, their projects, and their services, visit h2osci.com.