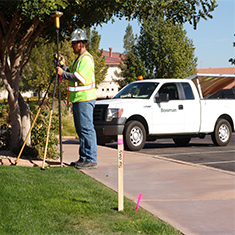 Bowman announced that the Company has been selected by Southwest Gas Corporation's Southern Nevada division for a new multi-year, on-call engineering and land survey services contract. This is in addition to recent extensions of the firm's similar Southern Arizona contracts. Bowman's teams will provide engineering, design and planning, and survey services including right-of-way, property line stakeout, high-pressure line cut sheets and legal exhibits, along with other related services, as required.
The Southern Nevada contract is the first Southwest Gas engagement for Bowman in the state. Since 2014, Bowman has delivered survey, civil engineering, design, and planning services to Southwest Gas' Arizona Central and Southern divisions. During that time, Bowman established a relationship built on responsiveness and process improvement that has enabled teaming on hundreds of projects per year and elevated Southwest Gas to one of the Company's largest clients.
Southwest Gas Corporation provides natural gas service to more than 2 million customers throughout Arizona, Nevada, and portions of California. The company is dedicated to investing in sustainable and responsible business practices that protect the environment, preserve natural resources and safeguard customers and employees.
"Southwest Gas is a leading utility and trusted services provider to its customers," said Gary Bowman, chairman and CEO of Bowman. "We are focused on supporting utility system operators contending with various pipe types and extreme weather events by providing services oriented toward facility fortification, resilience assurance, and infrastructure modernization. For nearly a decade, we have deployed highly skilled professionals to work side-by-side with Southwest Gas field teams. We are pleased to expand our partnership with Southwest Gas into Nevada as one of their trusted utility services partners."