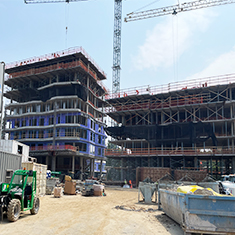 Bowman is working with Fivesquares Development to supply full-service engineering consulting for Strathmore Square, an eight-acre mixed-use community at the Grosvenor-Strathmore Metro Station in Bethesda, MD.  As part of Montgomery County's economic development plan, this redevelopment combines open space, public transit, art and culture to form a revitalized space that reflects its vibrant local community.
The company is providing civil engineering design, survey and plat development and arborist services for the project's first three phases. Bowman also developed site plans for each phase, including constructing three residential buildings, including senior housing, and a 1.25-acre park.
Site work for the phases includes design of a new multipurpose walkable shared street; water, sewer, gas, power and storm infrastructure design; construction of a reconfigured Washington Metropolitan Area Transit Authority (WMATA) park and ride loading area; and design and construction of a new WMATA garage entrance and exit driveway. The company is also working in close collaboration with Fivesqaures Development and Montgomery County to create infrastructure plans and ensure the project stays on schedule.
"The Strathmore Square project is a true collaboration between our team, Fivesquares Development, Montgomery County and WMATA to successfully navigate the site's challenges," said Scott Delgado, Executive Vice President at Bowman. "From the outset, we recognized the importance of providing extensive design and permitting support in phase one, which has enabled us to lay a strong foundation for the entire multi-phase site build-out. This is a shining example of our team leveraging its proven track record of delivering cost-effective, constructible designs for complex, multi-discipline, multi-agency projects to help our client achieve their vision."
"The Bowman Consulting team consistently delivers on project commitments. They have a deep in-house bench to meet schedules and provide proper expertise to ensure constructible designs", said Paul Sowter, Senior Vice President with Fivesquares.  "On the Strathmore project, the Bowman team delivered permits for early construction activities in a timeline only achievable through constant attention to detail and communication with permitting groups and WMATA."