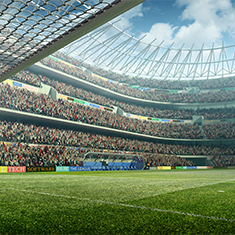 Bowman was contracted by Midway Rising to deliver engineering, survey and mapping services for a new entertainment center and master plan for San Diego's Midway-Pacific Highway community. The Midway Rising group includes Zephyr, Legends and Chelsea Investment Corporation.
As part of the Midway Rising master plan, the new entertainment center is replacing the Pechanga Arena with a 16,000-seat facility designed to host an array of events, including sports matches, concerts and entertainment shows. This new entertainment center stands as a significant cornerstone within the broader Midway Rising redevelopment initiative of breathing new life into surplus land within the Midway-Pacific Highway community. The master plan also includes 4,250 housing units to include 2,000 designated as affordable housing units.
"Bowman is dedicated to upholding the highest standard of services to ensure the new sports entertainment center aligns seamlessly with the vibrant vision of the Midway Districts revitalization" said Greg Shields, principal at Bowman. "When PDC was acquired by Bowman, this is the kind of revenue synergy and growth opportunity we were hoping to realize. Our award of this project underscores Bowman's commitment to contributing to developments that elevate and enrich communities."
Bowman is providing a comprehensive list of services, including ALTA and boundary surveys, preliminary engineering and several technical studies. The company will leverage its expertise to craft site plan designs per City of San Diego requirements. This includes meticulous planning of street alignments, strategic grading techniques, storm drain systems and water quality designs. The company's approach is not only centered on regulatory compliance but also on minimizing the project's ecological footprint.
"We are pleased to be partnering with Bowman and know they will contribute significantly to the transformation of the Midway-Pacific Highway community," said Brad Termini, CEO at Zephyr. "Their commitment to excellence and their dedication to blending innovation with sustainability aligns seamlessly with the goals of the redevelopment."