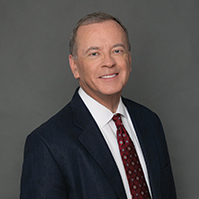 Jim Robinson comes to Bowman Consulting Group with more than 40 years of professional experience in the civil engineering field.Jim is an Army veteran, a former engineering business owner, and a former Director of Public Works for the City of Jacksonville, Florida.Jim was honored by his peers as both the Young Engineer of the Year and Engineer of the Year in Northeast Florida. He is a graduate of Leadership Jacksonville and currently serves on the Board of the Boys and Girls Clubs of Northeast Florida.
Jim's project experience in Northeast Florida has been broad and multi-disciplinary. Project types have included:

30+ Developments of Regional Impact
Arterial and Interstate Highway widening and safety projects
Technical input and applications for concurrency and mobility fee procedures
Areawide drainage studies and design improvements
Analysis and design of hundreds of traffic signal installations
Major public infrastructure projects including the Duval County Courthouse, Southbank Riverwalk, Trail Ridge Landfill expansion, and initial planning for Coastline Drive and Liberty Street repairs in Jacksonville, Florida
At Bowman, Jim is responsible for engineering activities in the northeast Florida, project and client management, and development of a Florida traffic/transportation practice.Please join us in welcoming Jim to the Bowman team.
Want to get in contact with Jim? You can reach him by email or phone at(904) 556 – 7227!