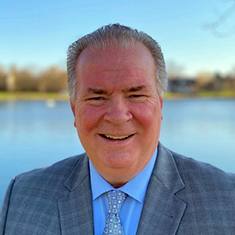 Bowman is pleased to announce that Brian J. McPartlin has joined the firm as Principal for the Lisle and Chicago, IL offices. Brian brings enthusiasm, energy, and extensive knowledge of the Chicago metropolitan area and Illinois market.
His responsibilities include key client management and business development. This includes strategizing and executing marketing and operational functions, developing short and long- term goals that drive success for business operations, and overseeing strategic teaming activities.
"We are thrilled that Brian has joined our team," said Michael Hannemann, Senior Vice President for Bowman. "His unparalleled knowledge of local, state, and federal agencies will be a great asset to us as we continue to grow our business and brand of engineering services both in Illinois and nationally."
"I'm excited about joining the Bowman Team and working to drive success for business operations locally and nationally with both our public and private sector clients," said Brian J McPartlin.
Brian is the former Executive Director of the Illinois State Toll Highway Authority, which is Illinois' 294-mile toll road system serving more than 1.6 million motorists daily. As Executive Director, he managed and coordinated an agency with over 1,700 employees and an annual budget with revenues of $636 million.
He helped draft and implement a 10-year, $6.3 billion congestion relief program to rebuild and restore 90% of the Tollway system, which added system-wide capacity and extended I- 355 South by 12.5 miles, ahead of schedule and under budget. He also oversaw the conversion of 22 mainline toll plazas from a barrier system to Open Road Tolling (ORT). Prior to being named Executive Director, Brian served as the Tollway's Chief of Administration, which involved oversight of Labor Relations, Employee Services, and Administrative Services.