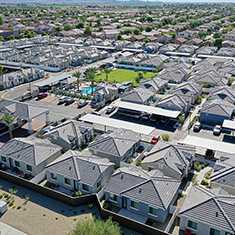 Even before the pandemic hit, the build for rent industry was booming. The need for housing in major markets continues to increase where desirable housing is in short supply. Instead of opting for a standard apartment unit, some renters seek a single-family residential experience that still has the benefits and amenities of a professionally managed home in an established community.
Ryan Faust, partner and managing principal at BUF Studio, saw enormous growth potential in the industry and entered the market. "The build for rent product is adaptable to various markets and demographics of end users. Everything about the structure is good for an affordable, livable community that offers benefits such as low maintenance, mobility, and proximity of useable amenities, all that interest a wide range of the population."
According to Multi Family Executive Magazine, this trend will continue to be strong throughout 2021. The magazine states that changes in the tax code and the consumer trend to no longer buy into the American dream of home ownership is what is fueling the growth of build for rent housing. This housing is not only safe and secure but has also become upscale and community focused. This popular real estate asset is attracting both niche developers and larger players, such as Toll Brothers and Lennar.
The average occupancy rate of these beautiful "home type" rentals is over 90% – leading to wait lists before the ground is even broken on the project. With a resume of more than 10,000 units, Bowman has become the go-to firm for developers and builders. The Bowman team lends their expertise to efficiently plan the overall design in ways that maximize yield and reduce infrastructure costs.
"Bowman has been involved in engineering and planning this product type for over five years. We helped pioneer this segment that we now service; we are rapidly becoming a leader in this industry," stated Bruce Larson, Executive Vice President of Bowman. "We are now looking at several projects in Texas, Colorado, the Carolinas and Florida," he added.
Marley Park is one of Bowman's recent projects that showcases this unique community. Located in Surprise, AZ, it is the perfect example of incorporating community and luxury with rental properties. Renters can get that sense of homeownership with perks such as amenities and private fenced-in backyards. "With a strong demand on building more of these communities, we rely heavily on our engineering team to lay out the foundation. Without Bowman, we would never be able to meet the current demand," said Jeff LaFrance, VP of Acquisitions at West Stone Group of Companies. "It took us multiple civil engineering firms prior to finding Bowman, but now we have the right partner, one that we can trust to deliver," he continued. "Bowman has years of experience in this area which has allowed the company to continually evolve, and the delivery of their work exceeds client expectations."
Florida is one of the many states experiencing this rising trend in build for rent. "Central Florida offers a unique market opportunity. It's a relatively untouched market with tons of room for growth and limited competition on the development side," stated Kris Ramji, President and CEO of Slate Land & Development Co. and Slate Realty. Erin Simpson, an architect with Scott + Cormia concurs. "With the current movement into more rental housing options, I see the opportunities as endless here. Florida, like many states, is positioned well for this type of product as we continue to see record numbers of people moving to our state, even during a global pandemic. Summing up the build for rent boom is Joel Thomas, principal, BUF studio, "With the living and working challenges that the world faces, and with the ever-changing needs and wants of the end-user, the build for rent product brings a versatile and independent solution that checks many of its customer's boxes. By providing several options within one development, tenants are immersed in a community-like setting without the hassles of owning or renting a home in the traditional sense. They have the freedoms and comforts of living autonomously, with all of the amenities of family development."