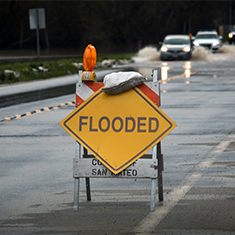 Earlier this summer, New Jersey Governor Phil Murphy announced the adoption of the landmark Inland Flood Protection Rule. These anticipated changes—set to be enacted on Monday, July 17th—aim to improve the identification of vulnerable areas and ensure that new and reconstructed areas are designed using climate-informed data.
These changes would impact numerous land development projects across New Jersey, introducing new requirements for developers to navigate. Bowman's team of regional experts are keenly aware of the intricacies associated with these new guidelines and stands fully prepared to assist you in guiding your project towards compliance.
What's Changed?
The Inland Flood Protection Rule, enacted by the New Jersey Department of Environmental Protection (NJDEP), updates outdated regulations under the Flood Hazard Area Control Act and Stormwater Management Rule.
Notable changes include:
— Increased elevation requirements: The design flood elevation for habitable first floors must now be two feet higher than NJDEP mapped elevations and three feet higher than indicated on FEMA maps.
— Increased precipitation data: Major developments are now required to design stormwater facilities using year 2100 rainfall projections, taking in to account the potential for increased future storm events. These projections are significantly higher than current rainfall data.
— Revised grandfather provisions: Projects with municipal approval and pending, technically complete NJDEP approval are grandfathered from the new rules. These provisions offer a measure of flexibility for ongoing projects while ensuring compliance for new developments.  However, projects that have municipal approval but will be located within the new, higher flood hazard areas are not grandfathered unless they have achieved substantial construction activities.
How This Impacts New Jersey Developers
Under the new elevation requirements, property previously outside the flood plain may now be in a flood zone. If so—and depending on permitting status—these sites will be subject to provisions outlined in the rule, which could impact developability. This will also impact on "dry access" provisions for residential development.
Bowman's team of regional development experts are here to help you make sense of the changes and devise a compliant plan for moving your project forward.
For more information, please contact Michael Sylvester at msylvester@bowman.com or Eric Keller at ekeller@bowman.com.