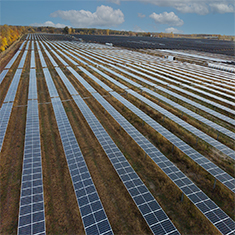 Solar energy is essential to reducing greenhouse gas emissions and mitigating climate change, and from an investment standpoint, the business itself has proven to be a solid, long-term asset for owners and beneficiaries of renewable energy.
As with any development cycle, properties available for development evolve over time and can lead to more complex choices to balance system size and cost. Many developers are expanding beyond green fields to repurpose previously excavated sites like quarries. These sites, when developed properly, can be ideal for system development. However, subsurface composition can present unique challenges that may compromise the structural integrity of a solar array.
Risks of Settling Solar Arrays
Large-scale solar projects can extend across thousands of acres and a range of subsurface conditions, including clay, sand and shallow bedrock. If not engineered and constructed properly, driven piles can be prone to settling and sinking after installation.
Excessive settling or movement can severely skew alignment, increase maintenance costs, reduce efficiencies and physically damage the structure. Most of all, settled panels can reduce the modeled performance and return on investment through a change in panel tilt or unplanned interrow shading.
Injecting concrete is a common solution to leveling driven piles. Although this solution is effective, it comes with high upfront costs when completed across utility-scale solar arrays.
Bowman has a better solution.
Factors to Consider in Developing a Monitoring Strategy
Bowman is monitoring a solar array with thousands of panels constructed atop a retired quarry that was backfilled to meet the required grading plan. Unfortunately, settlement occurred, impacting the racking and electrical components.
Rather than inject concrete below each panel, Bowman tailored a monitoring solution that enabled the solar operator to only address those piles that had markedly shown signs of sinking. This method helps address only those specific areas creating impact—thereby reducing maintenance costs.
Developing a monitoring strategy is not as straightforward as mitigating the problem. Several factors need to be considered, including the terrain, the racking type and the size of the project. With many panels spread out across a vast amount of land, a traditional GPS or conventional leveling technique was not feasible for this project. Instead, a comprehensive approach tailored to the array's design was necessary for mitigating challenges and ensuring precise monitoring.
Tailored Monitoring Solutions for Precise Data Capture
To ensure successful monitoring of the solar array, Bowman implemented a strategy that accounted for the project's unique requirements, including drastic weather changes, the racking system design and owner specifications. Our survey team understands that every project is different, and we tailor our monitoring approach to meet our clients' specific needs—using the latest survey technology and materials to overcome even the toughest challenges.
After testing several solutions, our team designed and installed custom prism jigs and modified brackets on every piling to ensure monitoring is as precise as possible without impacting structural integrity. Flared end pipes and aluminum rods with grippers are also being utilized for the exterior and interior control networks to prevent the markers from shifting during drastic temperature changes. Even with these components, the monitoring pricing is still significantly lower than doing a cross-site concrete injection for every pile.
Using a custom monitoring plan allows survey crews to collect precise elevation data and enables clients to make better-informed maintenance decisions. We take pride in our ability to adapt our approach to meet the specific needs of our clients—regardless of project size or scope.
To learn more about our experience in the renewables market, click here. You can also learn more about Bowman's survey and geospatial services, here.